Overall Rating: 8/10
Episodes: 12
Source: Light Novel
Genres: Action, Comdey, Fantasy, Shounen, Supernatural, Vampire
Premiered: Fall 2006
Couldnt start the new year off without watching a anime I've never watched before, This a first for me as it is for you so bare with,
without furthur a do, I give you Black Blood brothers
---
Synopsis
Ten years after the Holy War in Hong Kong, Mochizuki Jirou, aka the Silver Blade, and the lone hero who fought and defeated the Kowloon Children despite the loss of his lover, returns to Japan with his young brother, Mochizuki Kotarou. The two quickly discover that the Kowloon Children who survived the Holy War are seeking to infiltrate the "Special Zone", a thriving city protected by an invisible barrier that will not allow Kowloon Children entrance, unless they're invited. Red Bloods refers to the humans; Black Bloods are the vampires, and the Mochizuki Brothers are Old Blood, the last descendants of an elite clan of vampires. When Kotarou is abducted by one of the Kowloon Children, Jirou has no choice but to fight once more.
(Source: ANN)
---
My Opinion
Black Blood Brother's is a very wholesome anime that I really enjoyed and Ive been meaning to finish for a very long time.
I really enjoyed this anime and I didn't take its time revving up to the main event, in addition to the fantastic voice acting by the Funimation team but the anime itself was great.
Its definitely a watch when you've got nothing else to watch.
---
The Characters and their relationships
Jirou and Kotarou are definitely one of the most cutest siblings, but that doesn't mean I don't have a list of my favourite sibling duos (Tatsuya and Miyuki Shiba (Irregular at magic highschool) along with Edward and Alphonse Elric (FMA).
You cannot say that Kotarou is not the cutest little boy you've ever seen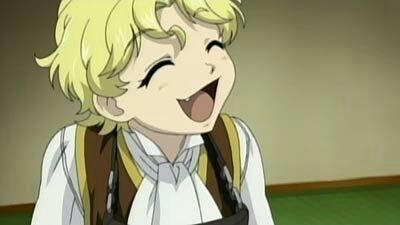 The relationship between Koatrou and Jirou is definitely brotherly love for the most part, but when you continue watching the show you see some different in the way Jirou treats Kotarou and others do it too, There is definitely something that Jirou and his long time friends and comrades are keeping secret from the story which makes it fun to try and figure it out for yourself and of course, I figured it out back in episode 7.
Every episode we get a flashback to Jirou's past, it sort of helps us build up the pieces of how the main plot came to be and why some characters are the way they are.
I can definitely see the relationship between Mimiko and Jirou becoming a recurrent thing, they totally argue like husband and wife, but we think most women protagonists are a nuisance to the main characters but something about Mimiko grounds him, but also he doesn't want to listen to reason when she's trying to help. Just from one conversation were plagued with extra questions, why was it Mimiko that was assignment to the task and why is the company asking for Jirou's help to protect her????
You couldn't say that Cassandra Warlock is the main antagonist because there are many villains throughout the course of 12 episodes, but we can say that the Kowloon Children are the root of all evil.
---
The animation
Nothing special to say about the animation of Black Blood brothers mainly because it was released in the late 2000s.
---
The Story
This show doesn't ease into the good stuff right from the get go were into the story without any special back story, It really doesn't surprise me that the main characters Jirou and Kotarou are strong because what would be the point if they were weak and normal.
I unfortunately don't have much to say about the story as from episode 1 to episode 7 I was practically breezing through the episodes its like I understand what's going on but I dont stop to appriciate the story for what it is.
10 years after the Hong Kong incident Jirou and Kotarou Mochizuki head for Japan's special zone where they are interrupted by the special zone's vampire suppression team who are in combat against vampires trying to get in, caught up in the Mischeive negotiator Mimiko Katsuragi is sent to help the brothers out.
To live in the special zone you must be invited in by a human and that's exactly what Mimiko does, trying to find the brothers a place to live, they must go and visit the three heads of the special zone to ask for a place in their residency only to be rejected, this makes Mimiko angry that they are being refused left and right.
A lot goes on in the story that I couldn't possibly write about, but what does seem to send this story off the deep end is the Kowloon children's resurrection that should have been put an end to in Hong Kong prior to the story.
We meet plenty of characters in this 12 episode series and Im glad its only 12 episodes because the way the story was going, dragging it out to 24 episodes would have been boring.
I don't really appreciate the final battle ending in a draw because it just leaves us wanting more action between the main two.
Just from learning what the company had been up to for 10 years makes us think everything could have been avoided, I was definitely not happy with the way it ended.
It is unclear of the main objective of the main antagonist Cassandra warlock, but it is clear she wants to cause chaos in the special zone which she accomplishes, Kotarou is amazed on how much everyone loves the zone and wishes to protect it.
---
The Voice Acting
I can honestly say I must commend the ADR Director for the voice acting in Black Blood Brothers, where I find my sources of MyAnimeList says Brina Palencia is the ADR director for the dub I'm not exactly sure, but whoever put this fantastic group together.
First the fabulous J. Michael Tatum as Jirou, I have been a fan of Michael for a very long time, I've heard his voice so gentle before in a character as Silver Blade, and the chemistry he has with Kotarou's voice actor Leah Clark.
I feel every emotion from the funimation voice actors in this anime which makes this a great series to watch with its many faults.
Special shouts out to: Carrie Savage, Luci Christian, Christopher sabat, Monica Rial and Jerry Jewell and the rest of the funimation cast for doing a fantastic job.