Hello my beautiful weebs!
I'm Back 😀
Many anime fans have long favored Tokyo Ghoul; many of us have favorite characters such as Touka or Kaneki, but mine is none other than Tsukiyama, and in 2015, we were treated to an OVA featuring a young Tsukiyama and his female human friend Hori Chie (even though he wont admit it to anyone).
---
Synopsis
Shuu Tsukiyama is a "ghoul": a creature who eats human flesh, and he likes to enjoy his meals to the fullest. One night, while relishing in the premeditated murder of his dinner, Shuu's much anticipated first bite is disturbed by a sudden flash of light.
The flash turns out to be from the camera of high schooler Chie Hori, who presents Shuu with the perfect picture capturing his true nature; the extremely clear shot of a bloody corpse and an overly excited Shuu threatens to expose his ghoul identity, thus Shuu needs to sort out this situation quickly.
After Shuu discovers that Chie attends the same high school as him and is even in the same class, the reason behind his feelings of obsession changes from self-preservation to morbid curiosity. As he grows closer to the absent-minded and extremely odd photographer, he challenges them both to learn more about each other's conflicting worlds; Shuu promises that Chie will come out of this experience with a photograph superior to the one she already has.
[Written by MAL Rewrite]
---
Review
The best part about this OVA is that you can watch it even if you haven't seen Tokyo Ghoul yet.
Unlike my review of the Black Butler OVA a few weeks ago, you don't need any prior experience to watch this OVA; in reality, it takes place before the Tokyo Ghoul timeline, and you don't need to know who the characters are because it's a small introduction to the Tuskiyama Shuu character.
The ova is 25 minutes long.
Now, I must confess that I watched this quite some time ago, but Funimation just recently released the dub, I did watch this in sub way back when as Miyano, Mamoru is a fantastic voice actor and does Tuskiyama justice, but when voice actor J michael tatum jumps into the role, the character bursts into life a little bit more.
Since the pandemic, voice actors, particularly dub actors, have been working from makeshift home booths. Recently, it was announced on social media that Michael and his husband Brandon have moved to LA, and it appears from Brandon's tik toks that they now have a professional booth in their new home, which really shows when listening to Michael speak as Tuskiyama, the voice is clear and perfect and a little bit scary that he can just mouth off words without much of a breath and making it seem natural.
I very much applaud not just Michael but Madeline Morris who voices Hori and the wonderful director and sound engineers that made the English dub super.
Teenage Tuskiyama is the protagonist, and for the first two minutes, he's mouthing nonsense like the lunatic he is; knowing what I know, I'd say he's a lunatic with a great sense of style.
Tuskiyama is a ghoul, and ghouls eat humans, but when Tuskiyama eats people, he gives a long monologue about how glorious one's food is when stalked and found a perfect person to eat.
Before he's able to eat his photo is taken and a small girl pops out of the bush, yelling in delight that she got a perfect picture. Tsukiyama being the vained person he is looked at this images also with delight and then realizes that he's the one in the image and for obvious reasons that is a bad thing.
Tsukiyama is baffled to see that the human girl in front of him is not scared and even shakes hands with him even though his hand is covered in blood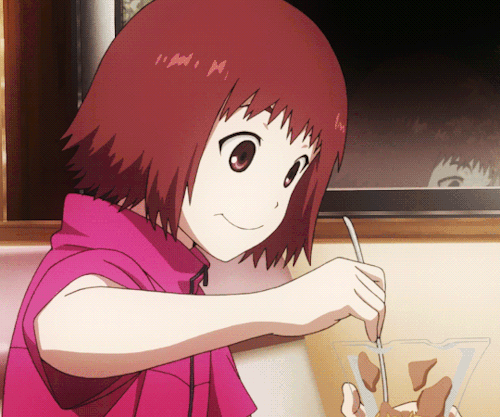 Tuskiyama is even more perplexed when he discovers that one Miss Chie hori is his classmate, despite the fact that she is very tiny for her age. When he asks what she wants from him, she says she already has it, the picture she took, and Tuskiyama is even more perplexed.
Shuu Tuskiyama arrives at school the next day, and I would never have guessed that anyone as high-ranking as Shuu Tuskiyama would really go to school to learn with such a bad attitude as his true self.
Shuu goes about his day, wondering why he hasn't killed Chie for discovering his secret, as Ghouls who clearly eat humans would be shocking to everyone, but Shuu simply notes that he wants to see what Chie saw through the viewfinder of her camera lens.
It's almost laughable when Chie doesnt really care about the situation she's been put in, if it was me and I saw what she did, I would have ran away screaming and I would have been killed as Im not a fast runner (lol)
But Chie just looks at Tuskiyama like what he is is normal, a ghoul eating humans.
There is a scene about 12 minutes in where Tuskiyama is trying to talk to Chie about something she just randomly cuts him off like she isn't listening at all, just in her own little world without a care in the world.
Later that night Tuskiyama invites Chie to watch him feed, on a human and she just simply accepts! like what the actual hell.
As a scene of chaos unfolds, Chie stands there with her camera, taking photos of every chance she gets, its very unsettling but these scenes just reminds me of who Tuskiyama shuu is, his life is almost like a theater performance.
As Tuskiyama gets angrier, he grabs chie and simply hangs her out of the window
A sane person would be struggling for her life, asking for her life to be spared, but chie just stares at him, blankly, to my surprise she takes a picture when the moon light goes over him and then he just simply drops her.
and then as she's falling, she takes another one.
The OVA ends with Tuskiyama saving Chie and then Tuskiyama announcing that she will become his pet.
When I first watched this OVA I was excited to see my favorite character again but now that I watch it again, that I'm really disappointed that it wasn't any more then 21 minutes as, I would have loved to seen more.
---
Thanks for Reading!
If you want to read more from me, don't hesitate to search under blog for my most recent posts or look below for some more posts. Please consider purchasing a KOFI or making a donation to support The Art Of Anime site. You can also show your support by liking or sharing this post