Rating: 5/10
Episodes: 26
Seasons: 2
Source: Manga
Genres: Drama, Romance, Supernatural
Premiered: Spring 2008
What's that one season you constantly re-watch even though you know its really bad
I'll go first
Vampire Knight
Synopsis
The cheerful Yuuki Cross and the gruff Zero Kiryuu are members of the disciplinary committee at Cross Academy, which houses two very distinct classes: the Day Class and the Night Class. Their job consists of upholding order between the classes when they switch out. While that may not seem like an especially difficult task, the Day Class is unaware of the truth behind the Night Class—their utterly gorgeous students are vampires.
Ten years ago, Yuuki was saved from a vampire attack by Kaname Kuran, a Pureblood vampire. Now, Kaname is the leader of the Night Class, and Yuuki's disciplinary committee position allows her to see him again, making her feelings for him grow complicated. Meanwhile, Zero bears a white-hot hatred of all vampires and believes they can never live in harmony with humans. But a secret from Zero's past soon threatens the fragile peace of all at the academy, and things may never be the same again.
[Written by MAL Rewrite]
---
Review
Now that I'm watching this anime for the 50th time, and I know it's one of the worst anime's I've ever seen, that doesn't stop me from binge-watching the entire two series in one day.
Now I love a good vampire anime as much as the next person and honestly the types of vampires that Vampire knight produces are probably one of the most civilized, No vampires that sparkle in the sun (yes I'm referring to Twilight)
Despite being dead they all have special powers which is also cool, I want Aido's power to freeze stuff!
Just to let you readers know, that this anime's appeal is the pretty looking vampires and their undying love to the pure blood Kaname Kuran and his lineage but that's the only thing going for it!
---
Characters
Vampires, Purebloods, Level E, Vampire Hunters and Humans
So many species and 3 of them are different types of Vampire clans, If your watching Vampire Knight then you will know this anime has quite a few different characters but the main story follows Yuki Cross, Kaname Kuran and Zero Kiryu.
The anime's appeal has to be the vampires that can walk in the sun even though it does weaken them, the powerful vampires have powers and that some vampire's loose themselves and attack every human they come across, but In my opinion this show is nothing special and is much like twilight, the fight between two men for one woman, even though she isn't what she seems to be.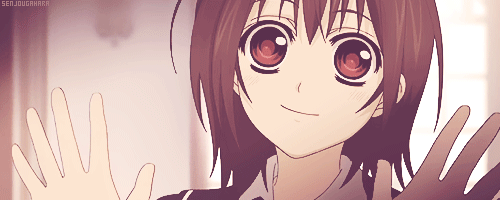 Yuki is our main girl, she's a guardian at true cross academy.
Yuki is a happy, loving, and somewhat comedic girl with her trademark smile. She was labelled a mediocre student because she dislikes studying and falls asleep in class as a result of staying up all night guarding the school grounds and preventing Day Class students finding out about the Night Class.
She sides with vampires, but she fears all vampires, with the exception of Kaname Kuran, because a vampire had attacked her when she was a child and he saved her.
She rarely left the Cross Academy grounds on her own because of this terror. Yuki doesn't want to show her doubts, so she hides them behind a smile. Zero, on the other hand, had spent four years with her and could still tell when something was bothering her, making it difficult for her to hide anything from him and vice versa.
Zero is a calm and collected person. He is also Yuki's protector. While he appears cold and aggressive to other students, he is friendlier to Yuki and sometimes expresses his true emotions to her.
He is a gentle and kind human, despite his outward appearance. Due to his youth, he constructs walls around himself that he does not completely dismantle, except for Yuki. Despite this, he has a compassionate heart that yearns to protect humans, and he will never abandon those he loves.
Zero is disgusted with himself after his full awakening as a vampire due to his inability to control his appetite and his dependence on Yuki. His pessimistic outlook on the future, as well as his fear of what he might do if he reaches level E
Kaname is a cool, elegant, stoic, and authoritative person in general. With Yuki Cross, however, he transforms into a completely different person; to her, Kaname is very gentle and sweet. This attitude irritates the Night Class vampires, who at first don't understand why he favours her.
Yuki herself is perplexed by Kaname's tender concern for her.
Kaname is occasionally envious of Zero Kiryu because of Yuki's relationship with him, and he is not ashamed to reveal it to Yuki.
As the Dorm President, he is very stern and always imposes discipline in a harsh manner, but he is indulgent and kind to Yuki. Kaname has admitted to Rido Kuran that he has a conflicting personality, which leads him to want to lock Yuki up and keep her to himself, but yet to want to watch over her and encourage her to be herself. Kaname never hides the fact that he is only concerned with Yuki's well-being.
Everyone respects him but they wonder why he favors a human over his own kind.
---
Story
Vampire knight premiered in 2008 and was produced by Studio Deen (Fate/Stay night, Junjou Romantica and Log Horizon)
The first season of Vampire Knight only took me a couple of hours to watch, and most of it was just really basic material.
Yuki Cross and Zero Kiryu are also students at True Cross Academy, but they are both guards, ensuring that the day students do not discover that the lovely night students are monsters, vampires.
The plot revolves around these two and pure blood vampire Kaname Kuran, who saved Yuki from a bad vampire ten years prior, while Zero despises vampires because a pure blood similar to Kaname killed his parents.
To summarize the majority of season one, half of it is just a girl trying to sort out her feelings to someone she cares for profoundly, while the other half is the harsh cruel truth and trying to keep it hidden from the rest of the world, and the season one ending was uneventful and unsatisfying.
Season 2 has a little more of a plot, but it's just a little too far-fetched. When I first saw the second season, I was blown away.
As I watched it over and over again, it became tedious, even though the ending was identical to that of a manga. I can see why no one is talking about it now.
Even though I bash on it so much I continue to watch it again and again it's just one of those anime's you watch even though its bad.
this is the question that just makes this anime so cheesy to ask its viewers "Are you team Kaname or team zero?" makes it relate to twilight so much.
---
The voice acting
The dub for Vampire Knight was created by Viz Media, and the main cast includes Mela Lee as Yuki, Vic Mignogna as Zero, and Ezra Weisz as Kaname.
Bryce Papenbrook, Corey Christopher Smith, Wendee Lee, Spike Spencer, and a slew of other fantastic voice actors round out the supporting cast.
this anime is 13 years old and it defiantly shows, as much as I love both Mela Lee, and Erza Weisz as voice actors I really felt like if this show had been produced in the last 3 years the voice acting would be so much better in terms of equipment in the studio.
Vic does a fantastic job as Zero and Ichiru but there was several times that his voice wasn't at its fullest potential. For research I watched a scene in Japanese and If I didn't have things to do while watching this show I would watch the sub.
so watch at your own digression.
---
If you want to read more from me, don't hesitate to search under blog for my most recent posts or look below for some more posts. Please consider purchasing a KOFI or making a donation to support The Art Of Anime site. You can also show your support by liking or sharing this post