Rating: 8.5/10
Episodes: 12
Source: web manga
Genres: Slice of Life, Comedy
Premiered: Winter 2019
This week I decided to watch something light and wholesome, so I give you ladies and gentleman
My Roommate is a Cat.
---
Synopsis
Subaru Mikazuki is a 23-year-old mystery novel author, major introvert, and an awkwardly shy person. He would much rather stay home to read a book than go outside and interact with others. Further exacerbating this life of solitude, his parents tragically died in an accident many years ago, leaving him alone in the world.

One day, while giving offerings at his parents' grave, Subaru runs into a small grey and white cat named Haru, which he ends up taking home with him. Subaru, however, has never taken care of anyone else in his life—can he even take care of a cat? Haru is grateful toward Subaru, as he gives her all the food she wants—a luxury for a cat who is used to a rough life on the streets. But she notices that Subaru can't even seem to take care of himself! Will she be okay with this dunce?

Doukyonin wa Hiza, Tokidoki, Atama no Ue. tells the story of an unlikely friendship between a human and a cat who try to foster an understanding with each other.

[Written by MAL Rewrite]
---
Review
My roommate is a cat was released in Winter 2019 by Zero-G Studios, the studio behind Grand Blue, High-Rise Invasion, and Science Fell in Love, So I Tried to Prove It.
It was wonderful to watch something so wholesome and light, even though it did touch on some very real-life issues, as this anime was classified as a Slice of Life. The anime follows Subaru Mikazuki, a 23-year-old author who is essentially a shut-in author, unlike other anime authors such as Shigure Soma from Fruits Basket and Jiraiya from Naruto.
When Subaru was 20, he lost his parents. 3 years later Subaru has just finished his first novel and he's working with his agent to come up with new ideas, but Subaru is uncomfortable with being around people in general, he could be classified as a major introvert, after his meeting he goes to visit his parent's grave and as he is about to give an offering a small black and white cat with big red eyes steals the food, Subaru becomes inspired for his next book and takes the cat in.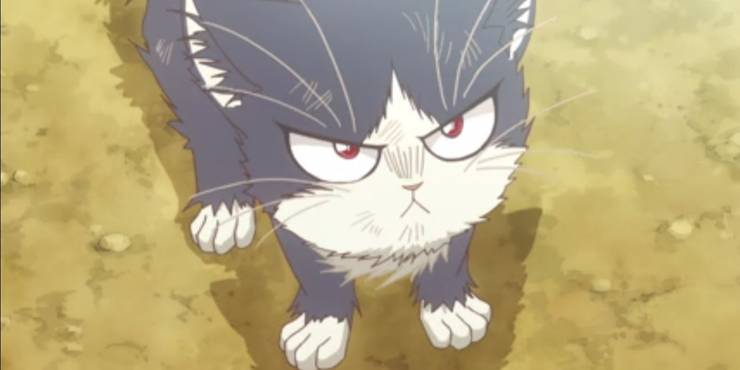 This anime is 12 episodes and you see that most episodes are split in half which makes is hilarious but you actually ask yourself, why am I watching the first part all over again?
The way they did it was the first part was Subaru's point of view but then, you get the Cat's point of view.
Subaru spends the first half of the show going about his daily routine, whether it's working or reading, but it's later revealed that he rarely eats and can pass out from lack of sleep or food. You can see his life change as he takes in the cat; each episode is unique, as he tries to balance life while caring for an animal (he named her after a story he read and wrote when he was younger)
After meeting Nana, who is also a cat owner, he realizes how much work goes into caring for a cat; which collar would look better on her? How much food should I feed her to keep her diet in check? It's imperative that you take her to the veterinarian!
He gradually learns how to be human, but he also learns more about his parents, which bothers him immensely because he will never be able to speak to them again. However, he soon realizes that he has a family, his closest friend and his family, his editor, Nana, and her younger brother.
Haru's perspective occupies the second half of the episode. Haru was a stray who had to look after her younger siblings, but she eventually lost them and was taken in by Subaru. Haru had been taught a lot of things by another cat and was told she had to pay back all of her obligations, so when Subaru feeds her, she feels beholden to him and follows him home.
She soon sees he is an unskilled person who is unable of doing anything on his own, and when it comes to feeding, she tries to leave her food for him in the hopes that he will eat it, only to become enraged when he does not. Unfortunately, humans are unable to communicate with animals, but we have learnt to understand the signs and emotions of our animals over time. Subaru, however, is perplexed as to why she continuously puts her food outside his room on the floor for him. (mainly because he's never had a pet before)
Its quite comical when Subaru is trying to think of a name for her, he thinks of Haru, but Haru thinks that the word means food as a young girl used to feed her food and her name was haru, It was lovely to watch her realise that the word doesn't mean food, but rather her name, something that belonged to her
The majority of her side of the episode is spent worrying about Subaru and being wary of everyone she meets, such as editor Kawase and bestfriend Hiroto, whom she tries to avoid as much as possible.
The ending was the most human episode of them all, as they both realize they are safe and have family in each other, I have only re watched this anime once but if the near future I need something to watch again, I would defiantly watch this again, it just shows you that humans and animals are family.
---
The Voice acting
The rights to the dub went to funimation with the main characters voiced by Austin Tindle as Subaru and Jad Saxton as Haru.
I think this was the first time I saw them work together in something on their own but I have to say they did a wonderful job, Austin Tindle really knows how to voice so many emotions in a character and as for Jad, I suspected nothing less of such as fantastic voice actor such as herself.
The supporting cast included Josh Grelle, Alexis Tipton and Kyle Ignezi.
---
If you want to read more from me, don't hesitate to search under blog for my most recent posts or look below for some more posts. Please consider purchasing a KOFI or making a donation to support The Art Of Anime site. You can also show your support by liking or sharing this post