(**Disclaimer, Small spoilers ahead!!)
Rating: 7/10
Episodes: 23
Source: Manga
Genres: Comedy, Fantasy, Supernatural
Premiered: Fall 2019
I started to watch this series when It first came out in 2019, I stopped after 3 episodes and then recently started to watch it again since I needed something new to watch.
Ladies and Gentlemen I give you Iruma Kun season 1!
---
Synopsis
Fourteen-year-old Iruma Suzuki has been unfortunate all his life, having to work to earn money for his irresponsible parents despite being underage. One day, he finds out that his parents sold him to the demon Sullivan. However, Iruma's worries about what will become of him are soon relieved, for Sullivan merely wants a grandchild, pampering him and making him attend the demon school Babyls.
At first, Iruma tries to keep a low profile in fear of his peers discovering that he is human. Unfortunately, this ends up being more difficult than he expected. It turns out that Sullivan himself is the chairman of the school, and everyone expects him to become the next Demon King!
Iruma immediately finds himself in an outrageous situation when he has to chant a forbidden spell in front of the entire school. With this, Iruma instantly earns a reputation he does not want. Even so, he is bound to be roped into more bizarre circumstances.
[Written by MAL Rewrite]
---
Review
Welcome to Demon School! Iruma-kun came out in fall 2019, given to us by Bandai Namco Pictures studios who gave us Gintama.
The story
The plot follows Iruma Suzuki, a 14-year-old human who is sold to a demon (and ends up being his grandson instead). He lacks the ability to say no when someone asks please, but he does have the ability to dodge danger and manages to make a high-ranking demon his age his servant.
If you were looking for a kick ass demon anime, you've come to the wrong place.
Iruma arrives in the demon realm shortly after being sold to a demon named Sullivan, who happens to be the headmaster of Babyls, the most prestigious demon school in the Neverworld, and decides to send him there (you find out that Iruma has never had the chance to go to school)
Iruma intends to blend in because he is human… BUT, as fate would have it, his (now demon) grandfather Sullivan chooses to introduce him to the entire school population, and as a result, he is forced to give the opening address and is now known as the honor student.
He is then picked out by Asmodeus Alice, who was scheduled to give a speech and is irritated that Iruma is taking his place in the spotlight; nevertheless, thanks to Iruma's knack for avoiding danger, he manages to doge all of Asmodeus's assaults before finally striking him with a German surplex.
After defeating Asmodeus, he agrees to be Iruma's willing servant for the rest of his life simply for conquering him without the use of magic; this is how Iruma (the human) obtains his first servant.
The drama continues as Iruma tries to conceal the fact that he is a human among demons, telling himself that he will not stand out, and again…
Life has its own agenda.
Welcome to Demon School Iruma is a wonderful anime about a 14-year-old boy who meets his first friends and learns the ways of the Neverworld among demons, all the while fearing that they will eat him if they find out who he is.
But the more I watched this show, the more this notion went from my mind since I have a sneaking suspicion that no one will care.
Heading through the episodes, I felt like the plot was repeating itself, but as I got closer to episode 18, I realized it was actually going someplace. The show ended with a cliff hanger that I was fully prepared for and for certain made me want to watch more!
Even though the majority of the episodes focused on Iruma navigating his new life, you can tell that there are things going on at work in the background. In Episode 5, Iruma and his classmates are told they must take a test in order to receive their rank. Iruma takes the test and receives a ring in the process, which is called the Ring of Gluttony.
In the demon school Babyls, ranking is everything; lower-ranking demons have fewer privileges than higher-ranking demons. Iruma learns that he must climb the ranks in order to finally realize a desire he's never had the chance to pursue.
If your looking for a laugh or just a wholesome anime then you've looked no further.
Characters
Iruma is a unique character; he's the primary character you can't despise; you have to adore him in every way!
He understands that he is not a demon and that he lacks the magic that other demons possess, but he manages to ascend through the ranks of the school (very slowly might I add)
Iruma is kind-hearted and dislikes conflict. When others ask for favors, he can't say no, and he's especially vulnerable to the words "help," "please," and "I implore you." His environment also helped him build a strong defense, allowing him to avoid any attack. He's a big eater, having gone hungry for most of his life and having had little time to enjoy the food he did eat in the human world. He is a pacifist who despises utilizing violence to solve problems, even when dealing with those who are hostile to him.
Asmodeus is my favorite character!
He first starts off as a show off because of his immense power as a first year and is often put on a pedestal for it. After being defeated by Iruma, he becomes his servant and ends up putting his needs on a back burner.
It was so lovable to see him come into the term of friendship (obviously a human term)
Asmodeus still holds his powers and fire magic in high regard, seeing them as emblems of his family. Asmodeus is chilly and direct with the majority of people. He doesn't try to be polite, and he frequently makes it clear that he is uninterested in the person with whom he is conversing.
Clara pretty much reminds me so much of myself (personality wise)
Clara is one of the more unusual pupils at school, behaving like a giddy child. She has a lot of energy that most students can't handle. Other pupils find her strange and difficult to work with, yet are drawn to her because of her innate strength. She would give students sweets and drinks as "payment" for playing with her because she had no friends.

Her immaturity makes it difficult for others to get along with her, to the point where the majority of the class can't stand her and wonders how Alice and Iruma can put up with her. Despite her childishness, Clara is well aware of how others perceive her as an irritation and, in an effort to fit in, she gives in to their demands.
She also gets very jealous especially of the student council president.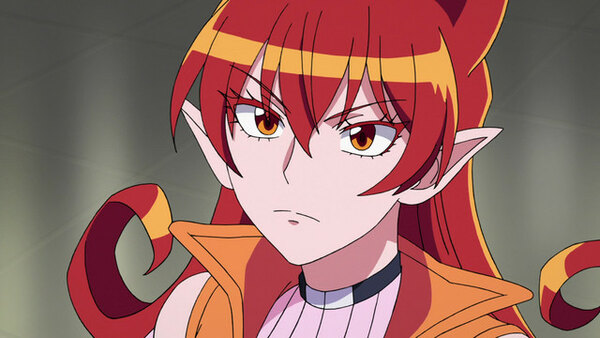 Ameri is the student council president and much a main character now as Sullivan (Iruma's demon grandfather).
She is strong and beautiful . Ameri is first perceived as a severe, cold, and imposing figure who punishes demons that cause trouble at school. She takes her job as president of the student council very seriously and with a sense of responsibility. She may be rather forceful as a result of this, using her power and fearsome appearance to put demons in their place.
She has a temper, but it is only directed at someone who poses a threat to her or the institution. Despite this, she does not misuse her position of power, and she has helped several former delinquent students improve their grades and positions, gaining their eternal loyalty.
She does, however, have a sweet side, as evidenced by her love of romantic manga.
The Voice acting
Even though the sub has some fantastic voices of (Takaya Kuroda, Ryohei Kimura, Daisuke Ono and Ayumu Murase) I started watching in dub like I always do and I just pretty much prefer it.
Don't quote me on this but the dub was possibly done by Crunchyroll because there is literally no information for me find aha.
Lets start with Laura Stahl who plays to Iruma. I feel like Iruma is a very simple character in terms of voice, Yes Iruma is a male and voiced by a Female voice actor but who gives a shit in 2021! (as Arim from attack on titan his Japanese voice actress is female).
I feel like Laura's portrayal of Iruma is Ernest and I always think she has so much fun while in the booth, this is what makes dub so special.
Billy Kametz plays Asmodeus and the first time I heard Billy's voice in an anime was his role has Josuke in the 4th part of Jojo's bizarre adventures and he is truly a remarkable find.
Just as he smashed his role as Josuke, he rocks as Asmodus, you really hear the excitement in his voice when Asmodus gets excited or when he's yelling at Clara you can really feel his rage. (he does wonderful for the character is clearly my favorite)
Kayli Mills plays Clara. Kayli is a voice actress that I haven't had a pleasure of hearing way too often only the roles of (Runa from Kakegurui, Sasha from The misfit of demon academy and Alice from Sword art online).
Kayli is a delight to hear since Clara is probably one of the most difficult voices to do (In my own opinion anyways), I give her credit where credit is due, wonderful job!
we also have wonderful extra voices of Kyle Herbert and Kira buckland.
---
If you want to read more from me, don't hesitate to search under blog for my most recent posts or look below for some more posts. Please consider purchasing a KOFI or making a donation to support The Art Of Anime site. You can also show your support by liking or sharing this post