Rating: 8.5/10
Episodes: 24
Source: Manga
Genres: Historical, Adventure, Romance, Shoujou
Premiered: Fall 2014
---
Synopsis
Princess Yona lives a life of luxury and ease, completely sheltered from the problems of the seemingly peaceful Kingdom of Kouka; however, the sudden murder of the king and betrayal of her beloved cousin Su-won places Yona's life in mortal peril. Forced to escape only with Son Hak, who is both her childhood friend and bodyguard, the naïve princess soon discovers that Kouka is not the idyllic place she envisioned it to be. Poverty, strife, and corruption run rampant, making reclaiming the throne nothing more than a wishful fantasy given the kingdom's current state.

Based on the popular manga of the same name by Mizuho Kusanagi, Akatsuki no Yona follows Princess Yona on a coming-of-age adventure as she faces the harsh realities of her kingdom. With only a mysterious legend to guide her, Yona must discover a way to restore Kouka to its former glory while being pursued relentlessly by the forces of the new King of Kouka.

[Written by MAL Rewrite]
---
Review
Atatsuki no Yona premiered in the fall of 2014 and was bought to us by Studio Pierrot, these studios gave us anime's such as Tokyo Ghoul, Naruto and Black Clover.
Story
Once once a time, 2,000 years ago, the Kingdom of Kouka was founded and ruled by Hiryuu, a red dragon who descended from the heavens and transformed into a human. Four soldiers infused with dragon blood from the Gods stood by his side, assisting him in leading the country to prosperity. With the passage of time, this myth became a legend to be told to children.
The kingdom had no male successors 2,000 years later, only a single princess named Yona who enjoyed a life of luxury. She had everything she ever desired and was hidden from the horrible reality outside the castle walls because she was in love with her cousin, Soo-Won, and was protected by her bodyguard, Son Hak. In contrast to this idyllic image, Kouka was subjected to political turmoil from within the country. Yona was forced to flee with just Hak by her side after her beloved Su-won conducted a bloody coup and murdered her father, and she began to live a life on the run.
Despite being encircled on all sides by enemies, the exiled princess still wishes to live and preserve her realm. Her solution comes from an exiled priest, who tells her that finding the four legendary dragon warriors is her only hope. Yona sets out to find these warriors, determined to battle for the throne and restore the kingdom, while meeting new friends and allies along the road, guided by this seemingly imaginary narrative.
---
Characters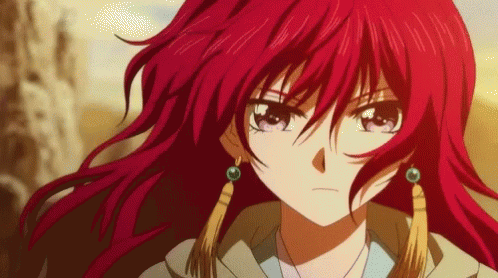 Yona is the crowned princess of the Kokua Kingdom,she has an adaptive and a pleasant personality as well as a strong sense of conviction. Throughout her journey, she demonstrates an unwavering eagerness to learn and maintains her optimistic outlook even in the face of adversity. She was initially self-centered and demanding of others, as Yoon reprimands her for not thanking him for looking after Hak. Through her travels, she finally learns to appreciate others. Yona has a positive view on life despite her traumatic past and chooses to serve others in need. She grows more mature and self-assured as she travels. During her trip, she begins to overcome her fears, realizing what is most important in life.
Son Hak is the former General of the wind clan and is the adopted grandson of the previous general Mundok, Hak grew up along side Suu-won and Yona as Yona's bodyguard. Hak was willing to risk his life for Yona and in the future Suu-won if they ever got married, this quickly changed when Suu-won betrayed everyone's trust and Hak and Yona had to go on the run.
Hak is a witty, straightforward young guy who will go to any length to protect Yona. When it comes to her well-being, he is both physically and emotionally self-sacrificing, as well as very loyal to people he respects and obeys. Hak has also been revealed to have a mischievous side, frequently tormenting Yona and the rest of his group, as well as "having a habit" of being a bully who enjoys mockingly nicknaming some of their other comrades, such as "White Snake" (Kija) and "Droopy Eyes" (Jae-Ha)
Soo-Won is the son of the deceased General Yu-Hon and Lady Yong-Hi, the older cousin of Princess Yona, and the childhood friend of Hak. He is a difficult character to understand. Most of the time, he has a peaceful and cheery personality. He had tremendous emotional strength and maturity, and unlike other people in the room, He has the ability to adapt to any scenario. He is gentle and loving to those he likes. Soo-Won, on the other hand, is a calculated individual. He has a good sense of observation, which aids him in deciphering people's true intentions. If it suited his purposes, he will act naive and carefree. This is a genuine aspect of his character, but it's also a strategy he uses to make his opponents underestimate him and redirect their attention away from him.
Despite all of the good qualities to pursue his goals, he was willing to take himself away from Hak and Yona and destroy their relationships. Not much is known about him in the anime as there is still so much we don't know about him as a character.
Jae-Ha is the current Ryokuryuu (English: Green Dragon), one of the four Dragon Warriors who possesses the green dragon deity's blood. His strength comes from his right leg, which allows him to fly by jumping high and over vast distances.
Jae-Ha is a carefree, vain, bold, confident, persistent, flamboyant, womanizer, and observant man who takes care in his appearance and appreciates the finer things in life. To the irritation of some of his companions, he has a tendency to rush after whatever he considers to be lovely and to openly demonstrate his masochistic nature when someone hurts him lightly. Despite his pranks, he despises being pursued and craves freedom above all else.
Jae-ha is probably my favorite out of the four dragons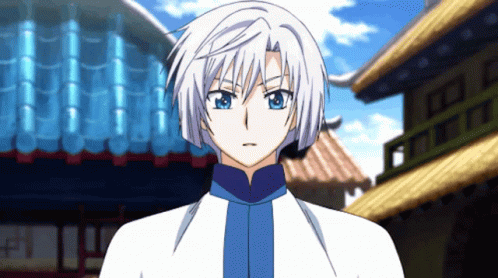 Kija is the current Hakuryuu (White Dragon in English), one of the four Dragon Warriors who carries the white dragon deity's blood. His right arm is the source of his strength. Kija was the guardian and tribal leader, having been born and nurtured in a village deep in the woods and carrying the White Dragon's genes. His village has taught him to serve and be entirely obedient to the next reincarnation of King Hiryuu, who is claimed to be his master, since he was born.
Kija has a forceful, straightforward, and polite demeanour, which is mostly attributable to his upbringing. He values the power he wields, the other dragon warriors, and Yona, whom he perceives to be King Hiryuu's return, as he has always known about the legend of the dragon deities and his place within it; he also strongly believes that those who are the dragon deities should fulfil their duties no matter what. As a result, he can be irritated by those who do not share his reverence, and he frequently chastises members of his squad (particularly the dragon warriors) for being immature or disregarding their positions.
Shin-Ah is the current Seiryuu (Blue Dragon in English), one of the four Dragon Warriors who possesses the blue dragon deity's blood. His strength resides in his eyes, which he can utilise to produce hallucinations and paralyse his opponent.
He has almost no social skills due to his upbringing in utter seclusion. He is extremely silent and rarely talks, instead responding to questions with nods and motions or blank, awkward stares. As a result, he is frequently misconstrued by others, who believe he is suspicious and even frightening. His disposition, on the other hand, is incredibly compassionate and sympathetic, especially toward others in his community who despise and dread him. He adores Yona and the rest of the gang, and he has a special affinity with a squirrel named Ao. He also despises the cold.
Yoon is the first person to join Hak and Yona on their journey to find the four dragon warriors, He is the self-proclaimed "beautiful boy genius" caretaker of High Priest Ik-Soo, and the one who helps Yona and Hak recover after they are hurt after feeling the fire clan.
Yoon is a kind, compassionate, intellectual, nonviolent, and skilled young man who takes great delight in his intellect and appearance. He throws comments at everyone from time to time, observing how the gang can be raucous despite their need to maintain a low profile. He is easily brought to tears, despite his caustic tongue, and sincerely cares for everyone's well-being.
Yoon learned to be self-sufficient and resourceful at a young age in order to survive.
---
Voice acting
Funimation took the dub for Yona of the dawn and I must say, whoever directed the dub did a fabulous job in picking the voice actors as they fit their roles perfectly, I felt every ounce of emotion that came off every single character especially the two main characters Yona and Hawk voiced by Monica Rial and Christopher sabat.
---
My opinion
Since being in Self Isolation I have had more time to read into things than I would usually, I re-watched this series within a day which can be very easy if you really enjoy watching something.
Lately I have been obsessed with history, folk lore and myths, I recently finished watching a TV show called Kung Fu which was absoutley amazing! and it was nice to learn a bit more about Chinese history and culture. I was so shocked to hear that Yona of the Dawn is set in the korean past and not Japanese but It made sense because the character designs looked nothing like the Japanese era.
I've made it apparent that I'm not a big fan of Shojou anime, but there was something about Yona of the Dawn that made me not hate it. In 24 episodes, a lot happens as the main characters Yona and Hak search for the four dragons; it's a well-crafted plot, but there's a flaw that earns the anime an 8.5 out of 10 rating.
Searching for the four dragons took up most of the series! Like when it got the end of the season you ask yourself, "That was it?"
I guess that does make you want to go out and read the manga but they just left it on the cliffhanger, what do they do next now that the four dragons as assembled?
I would suggest you go and watch the anime to find that answer yourself, and I will now be defiantly be starting the manga where the anime left of.
---
If you want to read more from me, don't hesitate to search under blog for my most recent posts or look below for some more posts. Please consider purchasing a KOFI or making a donation to support The Art Of Anime site. You can also show your support by liking or sharing this post