We managed to get here, the year is done and all of the anime for 2021 is out and Im sure all of you have had your favourites and here are mine!
---
10. Sankaku Mado no Sotogawa wa Yoru
Sankaku has just recently finished and I really enjoyed this series but the ending was a little bit light and I really wanted it to go longer than 12 episodes.
It had a very particular storyline and very strange characters so I'm gonna check if there is more in the manga that I can sink my teeth into.
---
9. Komi-san cant communicate
Komi was a very particular anime that I didn't start watching until near the end and I ended up really liking it.
We've had god-like characters like this before In anime but nothing like Shokou Komi. I have laughed so much at this show and I cannot wait until April 2022 for the second cour.
---
8. Horimiya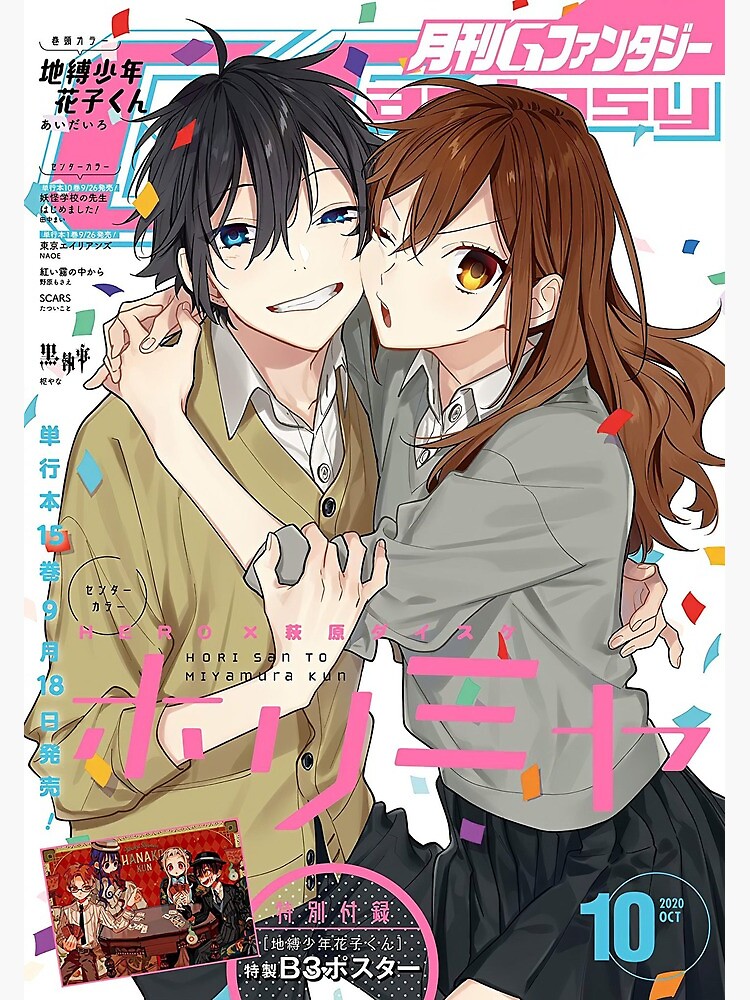 Horimiya was the second anime I related to this year. Miyamura and I had common similarities in feeling alone and not being able to make friends as it's not easy but with him, it was Kyoko that lead to his happiness well me, I'm still trying to figure that one out.
Horimiya was funny and a loveable school romance anime.
---
7. Beastars Season 2
I have had a love for beastars for a really long time! and I was ecstatic when season 2 came out and I did a little binging on it and I still love it and I cannot wait for season 3 to be given a date.
I need a little bit more of Legoshi in my life ❤
---
6. Dr Stone: Stone Wars
Dr Stone: Stone Wars was kick ass!
The battle of skill over science had a fantastic ending! It was a little sad to know what happens at the end of this season but I am so excited for the journey to be taken on the high seas and to see what the stone world beyond Japan has to offer!
---
5. Fruits Basket Final season
Fruits basket was the first anime I related to this year, If you wanna check out my blog post about this check it out
Every season Fruits basket played on my heartstrings but the final season defiantly took the cake. To everyone who has watched this can defiantly agree with me that this show deserves a very high rating and for me it defiantly surpasses Clannad.
---
4. Tokyo Revengers
I started watching this show after finishing Ikebukuro West Gate Park since they are both about gangs and let me tell you, This became something I needed to finish soo I am now continuing with the manga even though a second part is coming next year.
Cry baby the theme song is my top favourite opening this year and I cannot get it out of my head, the story is different and Takemichi makes me laugh so much, and I ask myself all the time, how is this guy the main character aha.
---
3. Vanitas no Karte
I stopped watching Vanitas after I watched the first episode in the sub but then Funimation went and dubbed it and if you have seen my memorable anime for Winter I have expressed my love for Zeno Robinson's portrayal of Vanitas.
I can't wait to get the second season next month I am so fascinated by Curse bearers and Charlotten, I can't wait to see where the show goes next.
---
2. JoJo's Bizzare Adventures: Stone Ocean
I am a massive fan of JoJo and part 6 defiantly topped my favourite season Battle Tendency, Joeseph Joestar's great-granddaughter surpassed him as my favourite JoJo.
I am excited to see what happens next as I haven't had time to catch up on it but I am definitely halfway through the first part and I have so many questions running around my head.
---
1. Fena the Pirate Princess
Fena is my number one for this year and here are a few reasons why.
The soundtrack is beautiful (My favourite song is Vice Versa), it defiantly went into my favourites list but it will never surpass Yoko Kanno's Zankyou no Terror soundtrack.
The story was beautiful but also very sad at the same time, I didn't like the ending and I wished it was more than 12 episodes! The fact this show is original makes me defiantly think imagination is a beautiful thing.
Fena and Yukimaru's relationship literally killed me! I mean come on!
---
If you want to read more from me, don't hesitate to search under blog for my most recent posts or look below for some more posts. Please consider purchasing a KOFI or making a donation to support The Art Of Anime site. You can also show your support by liking or sharing this post