Hi, Guys and Happy Valentine's day!
and for this special occasion, I will give you my top 10 favourite romance anime/movies I've watched over the last 8 years.
Without further ado, let's get on with it!
1. Ore Monogatari!!
My love story (Ore Monogatari!!) had to be the two first romantic anime I had ever watched, and yes, I watched in dub, and choosing Tia Ballard and Andrew love for the main characters was the best choice they could possibly make!
This love story is definitely my favourite because I love how this anime can show people that it doesn't matter how individuals appear on the outside; it's what's on the inside that matters the most!
This is why Ore Monogatari is my favourite romance anime to watch.
2. Fruits Basket
I watched the first season of Fruits Basket when it first aired years ago and fell in love with the story, but when it was expanded significantly in 2019-2021, I was blown away by the storyline and the characters, as well as the way the creator hinted at Japanese society and how parents sometimes treat their children poorly or expect the world of a 16-year-old child.
Despite the underlying concerns, this anime is a wonderful love storey that involves everyone, not just the main protagonists Yuuki, Kyo, and Tohru.
Fruit baskets will always have a special place in my heart.
3. Sukitte Ii na yo
Say I love you is a personal favourite of mine to watch, and I could watch it a thousand times and never grow tired of it. Sukitte ii na yo focuses on the main characters Yamato and Mei, as well as their friends, but mostly on the two major protagonists.
What I appreciate about this anime is that not all guys are the same or seek the same things, and I like how Yamato recognises Mei for who she actually is, a bud ready to blossom into the lovely flower that is Mei Tachibana.
If you haven't seen this anime yet and are looking for a romantic anime to watch on Valentine's Day? watch Sukitte Ii na yo.
4. Nana
If you have never watched Nana before, stop what you are doing and watch it right now!
Nana is a masterpiece and way ahead of its time in terms of storyline and romance but a very tragic love. Both Nana's experience euphoria in one way or another even if it was toxic for them, Love always conquers they say, but would they say that for a broken heart?
If you have the time, watch this anime! it won't disappoint you
5. Kaichou wa Maid-sama!
This anime is a true classic, and if you haven't seen it, you should!
Maid sama focuses on Usui and Misaki, and on top of the slow burn romance is a beautiful comedy anime. I have to say that I prefer the manga since I believe it adapts the tale much more than the anime does, but it is a perfect watch.
6. Kamisama Hajimemashita
Kamisama Kiss is a fantastic forbidden love anime and one of the best romantic comedy's I've ever watched!
The love between Tomoe and Nanami is certainly different to the other romance shows I've suggested and it's fun to watch when you watch them interact with each other and as Tomoe finds how hard it is to have a human as a master.
7. Given
Gotta add my first BL here.
Given took the anime world by storm when it was released back in 2019 just as Yuri on Ice did when it was released but Given was actually labelled BL.
The main characters Mafuyu and Uenoyama are the most adorable two boys I've ever seen and their relationship is strange, to say the least because unfortunately, Uenoyama doesn't know anything about love, not properly.
Watch this lovely story and watch these boys grow into a fine pair
8. Kimi no Na wa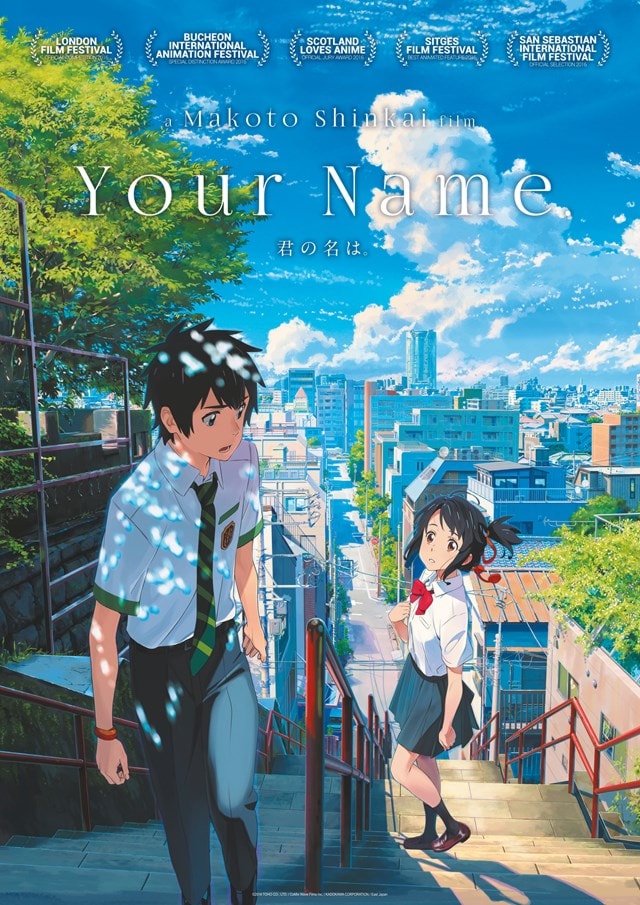 Adding my first movie and my only movie and Kimi no Na was certainly different.
Waking up one day and finding yourself in somebody else's body let alone the opposite sex is scary but just something about this strange love story that happens through time and space. When I first watched the film I was stunned by the result of the film and I was quite disappointed that it ended the way it did but it's defiantly worth the watch.
9. Wotaku ni Koi wa Muzukashii
Wotaku is a fantastic anime and such a good 12 episode watch, it's a good watch, because people who watch anime are basically the characters in this anime but obviously quite different as everyone, is different, but everyone can connect with the characters because were all Otakus.
Love is hard for an Otaku is a wonderful romantic comedy that you can watch on valentine's day.
10. Junjou Romantica
My second BL but my last romance anime
Junjou Romantica is a very different BL between a middle-aged man and an 18-year-old college student but in every way is such a romantic anime as you see them fall in love and find their own path to acceptance.
even if one of them can't quite believe he is gay
---
If you want to read more from me, don't hesitate to search under blog for my most recent posts or look below for some more posts. Please consider purchasing a KOFI or making a donation to support The Art Of Anime site. You can also show your support by liking or sharing this post.