Rating: 9/10
Episodes: 12
Source: Manga
Genres: Comedy, Drama, Romance, Supernatural
Premiered: Summer 2021
Synopsis
As the elegant, frail flower petals wither away into lifeless ashes, the young duke is tragically reminded of the despicable power forced upon him—the ability to kill anything he touches. Scorned by his family, he is sent away to live in near isolation. Fortunately, he is not entirely alone, as the manor's staff—his dutiful butler Rob and the flirtatious maid Alice—keep him company and make his life less miserable.
As the duke's romantic feelings for Alice grow, so does his continued frustration for the limits set by his unfortunate ability. Therefore, he resolves to break the curse cast upon him all those years ago, not only for his sake but Alice's as well—for he is painfully aware of how difficult it is to avoid the touch of a loved one.
[Written by MAL Rewrite]
---
The Animation
This wouldn't be an anime review without talking about the animation used for Shinigami Bocchan.
Every episode I watched seemed like it was taking place within a painting, and I don't think I'm alone in thinking this. I enjoyed the art style used by J.C.Staff Studios, and browsing through their past anime's such as Golden Time and Shokugeki no Soma, they haven't done anything like this before, and I adore it!
It works so beautifully with the plot; it's as if I'm seeing a painting move, act, and talk, or as if we've been sucked inside a picture and are witnessing events occur as we film them.
---
The story
The story follows the young Duke, whose name I believe is omitted for a variety of reasons, and his young Maid Alice and Butler Rob living life in a mansion only for the duke to live in. When he was young, he was cursed so that anything he touched died, leaving him abandoned by his family and friends to live in solitude for the rest of his life or until he broke his curse.
The dynamic between Alice and The Duke isn't subtle at all, they don't hold back with the sex appeal even if it only goes one way, The duke knows full well what people think of him and that is what makes him afraid to get close to others, but when Alice is accosted by his friend, he snaps and this is one way he can stand up for himself, knowing he's doing it to keep the people close to him safe. Despite his scaredy-cat demeanour, he tackles being labelled a monster head on.
Episode 2 introduces us to Viola, the duke's younger sister. Despite the fact that she is forbidden from seeing her older brother, Viola does so anyway. The duke believes she does so because she wants a change of pace from her daily life at the main mansion, but her sister comes to see him for only one reason: to see his Butler Rob.
As the show develops, we watch the duke gradually break out of his comfort zone, his love for Alice, his remarkable piano playing talents, and despite being alone in a house with his butler and maid, we meet Caph and Zain, two witches. When the Duke pleads for their assistance in locating the person who cursed him, they accept, but things do not end well. There is a stagnate response to this and the show ends with more questions than answers.
---
Characters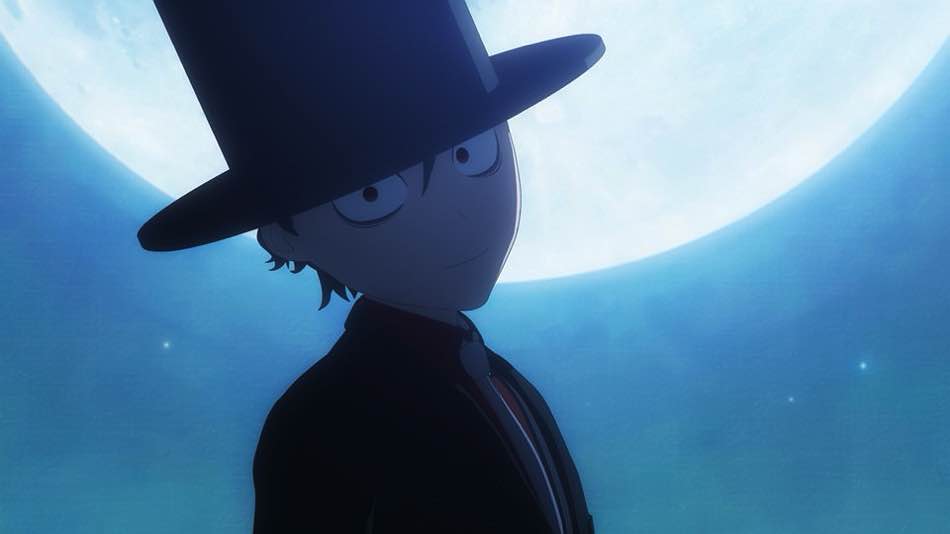 The Duke is fearful and frail. He is exceedingly timid when it comes to conversing with others because he hasn't had many social encounters for most of his life owing to being restricted to his estate. Duke lacks self-confidence as a result of other people's fear of him, which drives him to become increasingly unhappy. He is also easily embarrassed, as seen by Alice's attempt to elicit a rise out of him.
Despite his weak physique and lack of self-esteem, The Duke towards the middle of the show understands precisely what he wants, and I like the show's patient character growth. I'm looking forward to seeing how he does in the upcoming season.
Despite the fact that Alice is the Duke's estate's top maid, she enjoys teasing him. She frequently exposes portions of her body to humiliate Duke or says things that would likewise embarrass him. She demonstrates correct behaviour as a maid by showing respect to those she serves. She is normally quiet and stays to herself while guests are around, only speaking when absolutely required.
Considering her behaviour toward the Duke, Alice would never act on her desire, but even though she has come very close to touching him even though she can't, she truly loves him, but because she is a servant and he is a duke, she realises she can't actually have him because she understands her place within society, and I am thrilled to see how she will overcome her fears.
Caph and Zane are complete opposites, Caph is very unreliable and doesn't know how to take care of herself whereas Zane is very capable of taking care of himself to a certain extent, he is a total womanizer and always takes a pass at Alice but is well aware of the duke's feelings for her but he would never act on these feelings as he always has eyes for his partner in crime Caph.
I'm really excited to see how their relationship grows next season
Much like Caph and Zane, Viola and water are complete opposites and even though are related to the duke each of them are nothing alike. Viola has a wild attitude; she adores sweets and is willfully breaking her mother's wishes by visiting the Duke's villa on a frequent basis. She's simple to be alone with, but she's terrified in front of Rob, whom she adores, to the point of being unable to talk clearly and Walter, He is a gentleman and a good-looking man, but when it comes to his elder brother, he suffers from a serious second-born complex, to the point that he becomes melancholy just by seeing the number two.
Next season I want to see both of them grow up out of their insecurities.
---
The Voice acting
I don't know if it's because Kristen McGuire and Clifford Chapin are engaged in real life, but you definitely felt the connection between the two main characters in the English dub, which was dubbed from Funimation. I recently watched Welcome to Demon School Iruma and I definitely felt the link between Clara and Viola's voice actress Kayli mills who did an amazing job, clearly, we have Monica rial who can perform a really innocent little child voice but Kayli was perfectly chosen for the duke's younger sister. Both Sarah and Ricco performed an excellent job portraying our favourite witches, Zane and Cuff, and I felt that this cast was perfectly chosen.
---
My Opinion
The Artstyle is what I absolutely adore about this anime, it's a slow rom-com anime but I do wish they didn't start where they did, Episodes in we see the duke before Alice became his maid and I would like to have seen the anime start off that way, to see something build to what they ended on at the end of season 1 this is the season I gave it a 9/10, I would have liked to watch every episode watch them grow.
All of the characters are carefully thought out and have a function in the plot. There are the major characters, The Duke and Alice, as well as supporting characters Viola, Rob, Zain, and Caph. Every episode got me chuckling, which is what I look for in a rom-com, although I did wish we saw more of the curse-breaking side than the trip to the witches' sabbath midway through the season.
There was an end of an episode that I wished would be addressed but at lass, we have to wait until the second cour to get more answers, Shinigami Bocchan is a light-hearted show you can watch one a week (sometimes I wished it wouldn't stagnate during the weeks but things cant be helped)
If you have the time to give this anime a shot, you won't be disappointed!
---
If you want to read more from me, don't hesitate to search under blog for my most recent posts or look below for some more posts. Please consider purchasing a KOFI or making a donation to support The Art Of Anime site. You can also show your support by liking or sharing this post