Rating: 7/10
Episodes: 24
Source: manga
Genres: Action, adventure
Premiered: Spring 2012
Jormungand is one of the few anime's that I can continue to re watch without ever getting bored, Jormungand isn't one of the best anime's I've seen but it definitely is different.
---
Synopsis
Brought up in a conflict-ridden environment, child soldier Jonathan "Jonah" Mar hates weapons and those who deals in them. But when Koko Hekmatyar, an international arms dealer, takes on Jonah as one of her bodyguards, he has little choice but to take up arms. Along with Koko's other bodyguards, composed mostly of former special-ops soldiers, Jonah is now tasked with protecting Koko and her overly idealistic goal of world peace from the countless dangers that come from her line of work.
Jormungand follows Koko, Jonah, and the rest of the crew as they travel the world selling weapons under the international shipping company HCLI. As Koko's work is illegal under international law, she is forced to constantly sidestep both local and international authorities while doing business with armies, private militaries, and militias. With the CIA always hot on her trail, and assassins around every corner, Jonah and the crew must guard Koko and her dream of world peace with their lives or die trying.
[Written by MAL Rewrite]
---
Review
Opening and Ending
The show has two opening songs and two closing songs
These two are the two openings for the show and they have the energy, I always enjoyed listening to them, but what I also liked were the background songs throughout the show the OST for Jormungand is tailored to the show and its characters there is even an OST named 'Time to Rock and role' and its lyrics even include "her name is Koko she is loco"
---
The Story
In the spring of 2012, Jormungand premiered at the White Fox Studios, which gave us shows like Akame ga Kill and Steins; Gate. The show is divided into two seasons
You believe Jonah is the most important character, but you realize that the whole Koko team is the principal character as the first two episodes progress. I haven't been a big fan of large casts as I have said in my review before, but Jormungand needs them to remain relevant. In several episodes we also get character history and backgrounds, which I must say are thought out brilliantly.
There is nothing evident in Jormungand's early season, but in episode 15, we lost one favourite and everything changed for everyone; Koko loses one bodyguard; that was part of Operation Undershaft, an operation that transformed the HCLI information network into a military logistical asset through Koko.
This show has a lot of different characters with different personalities and skill sets who help Koko sell weapons and other items to different people; there is a lot of death in this show, as it should be; I'd also compare it to the anime 'Black Lagoon,' which is also one of my favorite different anime's I've watched.
Since this is a Japanese anime, we see a variety of countries, not just within the borders of Japan.
In addition to that, we see several agencies like the CIA, as well as groups of mercenaries and assassins like the Orchestra and the Balkan Dragons, a militia.
In this anime there are many fan services, which I love, for nobody appreciates beautiful people so much as I.
There are many different ways of enjoying the plot, either due to the storyline and magnificent characters, or because it is near regular law shows.
Jormungand's worth your time if you have a sense of humour and enjoy killing, fighting, and chasing scenes.
---
Characters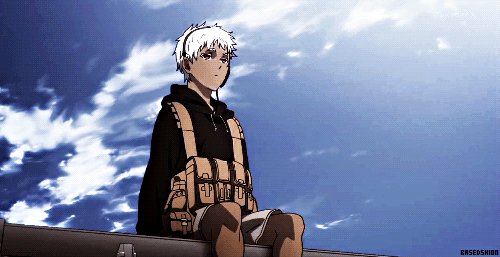 Jonah is a young child who is enlisted into HCLI as Koko's bodyguard after being found by her brother Kasper and imprisoned in a storage container for days without food or water for interfering with his plans, driving Jonah to loathe Kasper and serve for Koko. He gradually changes after meeting Miss Hekmatyar; he is obliged to work as a team and even establishes ties with her troop of Bodyguards.
Jonah is still a child and lacks the mindset of the others, but he shows that he still has humanity when he holds firm in his opposition to weapons, despite the fact that he must use them for his work.
Koko, there's a lot I can say about this woman.
Koko is a mostly cryptic character who rarely expresses her genuine feelings. She appears cheerful and pleasant most of the time, yet she may be immature with her subordinates, throwing fits when irritated or angry. She, on the other hand, is able to bounce back swiftly and rarely gets stuck. She is able to have a clear head even in risky situations and often smiles when she is in danger.
Koko may be mad, cruel, and determined, making her a dangerous opponent who will not hesitate to use any means necessary to achieve her goals, including lethal force.
However, depending on the circumstances, a single action or phrase by her opponent can urge her to show pity to them, and she has been willing to spare them on occasion.
Koko's Squad
Koko's Squad is an international bodyguards team that supports and protects Koko Hekmatyar throughout the globe. They usually follow her and remain together, because of the highly dangerous nature of Koko's work, for mutual protection. Almost all of them are former soldiers and bring an eclectic combination of talents and abilities together. Trained cross-sectionally in a variety of firearms, the group is supported by HCLI to freely choose anything that they want or need.
Throughout the anime you get a backstory from most of the crew and learn how they became to be specialists in there own field and how they began working for Koko.
---
The Voice acting
The english dub for Jormungand was given to Funimation with Christopher Bevins as the ADR director. It is not uncommon for the ADR director to have a part as well, Christopher voiced Tojo.
Koko's character was given to Anastasia Munoz who has a fantastic voice and I have been a big fan of hers, Much like Shelley Calene Black, she isn't well known but they are both fantastic voice actors.
Jonah's role was given to Micah Solusod who back then was a rising star within funimation back then with his roles in Soul eater and A Certain Magical Index.
The cast also included names like Carli Mosier, Eric Vale, Partick Seitz and Robert McCollum.
---
If you want to read more from me, don't hesitate to search under blog for my most recent posts or look below for some more posts. Please consider purchasing a KOFI or making a donation to support The Art Of Anime site. You can also show your support by liking or sharing this post