As we all know, I am the big massive fan of the dub anime community, just as much as the sub, as the global pandemic strikes the industry, I have no choice to start re-watching anime's I've already watched.
Without furthur a do, Here is the Review for Akashic Recrods of Bastard Magic Instructor.
Synopsis
The Alzano Empire is home to one of the most distinguished magic schools in the world: the Alzano Imperial Magic Academy. Here, ambitious young students undergo training to become competent magicians. Sistine Fibel, a stern noble girl, and her bright-eyed best friend Rumia Tingel attend the Academy, determined to cultivate their magical skills.
However, their world is thrown for a loop when their favorite teacher suddenly retires and the enigmatic Glenn Radars replaces him. His lazy and indifferent attitude toward life and magic quickly puts him at odds with his class. What's more, nefarious forces hidden within the empire's walls start to become active, and Sistine, Rumia, and Glenn find themselves caught up in their schemes.
Rokudenashi Majutsu Koushi to Akashic Records follows Sistine, who is captivated by a mysterious floating Sky Castle; Rumia, who is haunted by a troubled past; and Glenn, who may be more than meets the eye. Though completely different on the surface, they are inexplicably bound together by a thread of fate.
[Written by MAL Rewrite]
My Opinion
As much as I love funimation dubs and I give my hats off to the voice actors Josh Grelle and Rachael Messer who did fabulous jobs I might add, but I originally watched this anime in Sub as I was too egre to wait another week as it simuldubbed back in April 2017 even as I rewatch it again i can definatly say this anime is enjoyable in both Japanese and English.
As the outline and the gif above shows, these guys are the main characters, so to speak, a Glorofied Child man, Girl High school students whose uniforms that are way to skin revealing but that's okay but its normal school uniform and the lady who supports from the shadows but is also smoking hot, totally normal for the fantasy school type anime right?
Latley I have been able to tell the difference between manga anime and Light novel anime along with the webtoon (Korean) anime and this falls under the Light novel category as the ending leaves us with more questions then answers but will we get a second season? We may, or we may not, but I thought The Irregular at Magic High School wouldn't but 6 years later here it comes with second season so I may be wrong in my calculations.
Getting back on track, this 12-episode anime much like The Asterisk War back in 2015, Glen Radars is thrown into a teaching position, not much is known about him, but he comes highly recommended by another teacher but does that fly with others? No it doesn't and it grabs the attention of 15 year old high school student Sistine who just wants to learn and Glen is not in the mood to teach, Glen is then nicknamed "Bastard Instructor"
Sistine has enough and challenges him to a duel, Glen starts to gloat about how he's going to win, only to be slaughtered by an angry 15-year old and demands he teaches her and the rest of the class something useful, Only to find out he's actually smart but not too powerful in the magic department but has the skills to pass off to them.
Getting onto from episode 3 onwards we get to see Glen masking emotions behind from the character changes from episode 3 all the way to episode 12, we see many different sides of Glen and in the end I truly feel sorry for him and watch him grow up from a man child into just a man by learning from his class and collouges we meet along the way.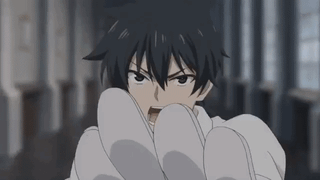 We meet character Rumia Tingel straight from the start of the series, but it isn't until the end of episode 2 we get to see another side, the dark side of one's past.
I couldn't count how many times she the girl was kidnapped in the series 2 or maybe even 3 times? but could i stop hating her chractater? no I couldn't!
Experditly voiced by my sweet angel Monica Rial, unlike her Adopted Sister/Bestfriend Sistine, Rumia is much calmer and collected and doesn't seem to be surprised at anything that happens to her from episode 3 all the way to episode 9 where the dynamic changes, this anime of 12 episodes contains 3 or 4 different story archs tells me that they really ruhed to add as much as possible into one season, was this the smart move? I dunno you can tell me by watching it!
I give this anime a 8/10